For a special attempt at relevance, the Pavement Pounders discuss Jurassic World, currently chomping through box office records and in no way in need of their endorsement.  Still and all, they discuss in what sense (if any) the movie is adapted from the original Jurassic Park novel, just to give lip service to the whole "Reader" thing in their title.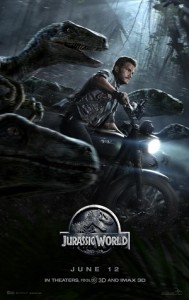 Slowness of aging T-Rexes discussed!  Lack of a clear protagonist dissed!  Emergence of Indomitus-Rex's traits disbelieved!
No rankings this time, though all the Pounders believe this movie is a more worthy sequel than any of the previous ones.  Worth seeing as a popcorn movie.  Ish.
Notes: