For Episode 29, the Pavement Pounders discuss Steven Gould's excellent novel Jumper and its lackluster 2008 film adaptation. Just read the book series!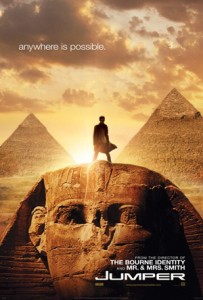 For a podcast on a better Doug Liman film, check out our episode about Edge of Tomorrow (All You Need is Kill).
Huge thanks to Steven Gould for replying to our tweet, and also to Edward, Matthew, Nick, and John for responding on Facebook.  You, too, can find us on social media (our website has all the deets).
Pounder Rankings!:
Seth/James/Colin:
Notes:
Geek's Guide to the Galaxy interviews Steven Gould:
http://www.wired.com/2014/08/geeks-guide-steven-gould/
Tom Scott's humorous video on  teleportation:
https://www.youtube.com/watch?v=zJt8yzR2aoY
The Oatmeal (not xkcd!) comic about shooting for the moon:
http://theoatmeal.com/comics/shoot_moon
Jumper: Book vs. Film:
http://www.avclub.com/article/book-vs-film-ijumperi-2178
Another humorous Agony Booth review, this time for Jumper:
http://www.agonybooth.com/movies/Jumper_2008.aspx
Seth's reviews of the Jumper series:
http://seth.heasley.net/blog/2012/05/book-review-jumper-by-steven-gould/
http://seth.heasley.net/blog/2012/06/book-review-reflex-by-steven-gould/
http://seth.heasley.net/blog/2013/03/book-review-impulse-by-steven-gould/
http://seth.heasley.net/blog/2014/10/book-review-exo-by-steven-gould/
The Sci-Fi Christian:
http://thescifichristian.com