For Episode #30, the Pavement Pounders are joined by Matt Anderson of The Sci-Fi Christian to discuss the new film The Martian, adapted from Andy Weir's best-selling book.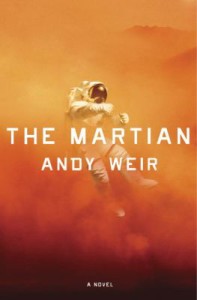 Seth totally forgets about the Earth's magnetic field when discussing the radiation problem.  Also, his Windows laptop totally freezes up halfway through.  See if you can spot where it happens.  Editing FTW!
Huge thanks to Matt for joining us and keeping the ball rolling while Seth's computer crapped out.
Rankings!:
Matt/James/Colin/Seth:
book
movie (but it's close)
Notes:
Matt's podcasts:
The Sci-Fi Christian (http://thescifichristian.com/)
Comic Book Time Machine (http://comicbooktimemachine.com/)
Guy takes some shots at the book, people freak out in the comments:
http://electricliterature.com/why-the-martian-movie-is-poised-to-be-better-than-the-book/
Awesome new space suits!:
http://io9.com/how-a-new-spacesuit-will-help-us-live-on-mars-1720390830
NASA tech in The Martian
http://www.nasa.gov/feature/nine-real-nasa-technologies-in-the-martian
XKCD, of course:
https://xkcd.com/1536/
How The Martian may have saved the space program
https://www.washingtonpost.com/blogs/achenblog/wp/2015/05/05/andy-weir-and-his-book-the-martian-may-have-saved-nasa-and-the-entire-space-program/
Geek's Guide to the Galaxy interview with Andy Weir:
http://geeksguideshow.com/2015/09/21/ggg169-andy-weir/
Adam Savage Interviews Andy Weir:
https://www.youtube.com/watch?v=5SemyzKgaUU
The Incomparable 187 "Man vs. Mars":
https://www.theincomparable.com/theincomparable/187/
Liquid Water on Mars
https://www.youtube.com/watch?v=UsaJ7ZvCjmY
Perchlorates on Mars
https://www.youtube.com/watch?v=g7Iiz_b_lYU
The Martian and the religion of science:
http://io9.com/the-martian-screenwriter-says-its-a-religious-movie-bu-1733865987
NYTimes, "Let's Not Move to Mars":
http://www.nytimes.com/2015/09/21/opinion/lets-not-move-to-mars.html?_r=1
Screen Junkies "Martian Movie Science":
https://www.youtube.com/watch?v=BP30-73Bd2g&list=WL&index=2
Martian deleted scene "Chem Cam":
https://www.youtube.com/watch?t=3&v=bTRy9etXnfs