All things being equal, this episode would've been released for Halloween 2015. But 20th Century Fox decided to push Victor Frankenstein to Thanksgiving Weekend, so it's Franksgiving, or Thankenstein from the Pavement Pounders!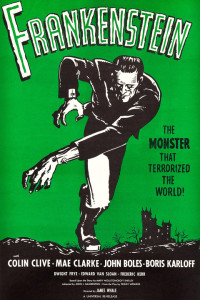 Under consideration this time are the classic 1818 novel Frankenstein, its equally classic 1931 adaptation, 1935's Bride of Frankenstein, Mel Brooks's Young Frankenstein, a couple of other adaptations, and the new film Victor Frankenstein.
Pounder Frankings, or Pounder Rankenstein!:
Colin:
2004 miniseries
book
1931 film
(though his favorite item was Young Frankenstein)
James:
Young Frankenstein über alles!
Seth:
book
1931 film + Bride of Frankenstein
Young Frankenstein
Notes:
Read the book free!:
http://www.gutenberg.org/ebooks/84
How Universal Re-Copyrighted Frankenstein's Monster:
https://www.plagiarismtoday.com/2011/10/24/how-universal-re-copyrighted-frankensteins-monster/
Crash Course Literature: Frankeinstein
Part 1: https://www.youtube.com/watch?v=SyyrwoCec1k
Part 2: https://www.youtube.com/watch?v=hRDjmyEvmBI
Heart in a box:
http://www.technologyreview.com/news/540861/transplant-surgeons-revive-hearts-after-death/
1910 Edison Company silent film:
https://www.youtube.com/watch?v=TcLxsOJK9bs
Mary Shelley: Grandmother of Science Fiction (The Great Courses):
https://www.youtube.com/watch?v=qUr32Ji69g8
Discovery Channel's "Great Books: Frankenstein":
https://www.youtube.com/watch?v=0uzHneTLuYE&spfreload=1
Legacy of Frankenstein: The Monster is the One in the White Lab Coat:
http://www.americanscientist.org/bookshelf/pub/legacy-of-frankenstein-the-monster-is-the-one-in-the-white-lab-coat
Aldini's grim demonstrations:
http://www.peashooter85.com/post/65399622846/the-real-dr-frankenstein-the-mad-science-of
http://www.theguardian.com/education/2004/oct/07/research.highereducation1
Seth's review of Frankenstein:
http://seth.heasley.net/blog/2010/10/frankenstein-by-mary-shelley/
List of Frankenfilms:
http://public.wsu.edu/~delahoyd/frankenstein.films.html