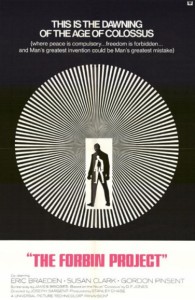 Recording right about the time of our second podcast anniversary, this time we discuss Colossus: The Forbin Project, adapted from DF Jones's novel Colossus.
Many thanks to everyone who's interacted with us in any way since we started doing this. It's been a lot of fun and we look forward to many more awkward discussions in the future.

Colin says nucular repeatedly! Seth repeats the word "story" over and over in a single monologue! James thinks the movie title could fit an adult film! And we all agree scientists should be familiar with Frankenstein.
Featuring Seth Heasley, James Ralston, and Colin Kuskie.
Pounder Rankings!:
Colin:
James:
Seth:
Notes:
Seth on Original Remake:
http://originalremake.podbean.com/e/ep-18-oceans-11-and-oceans-eleven/
Original Remake links:
https://itunes.apple.com/us/podcast/original-remake/id1081323796 (they totally added iTunes after we recorded this)
http://originalremake.podbean.com/
KAMN episode (discussion starts at 18:35)
http://www.kickassmysticninjas.com/2007/05/13/kamn-show-29/
http://www.kickassmysticninjas.com/
Other reviews of Colossus: The Forbin Project:
https://astrobioloblog.wordpress.com/2011/04/29/review-%E2%80%93-colossus-the-forbin-project/
http://www.wired.com/2009/01/top-10-evil-com/
http://blogcritics.org/dvd-review-colossus-the-forbin-project/
http://gointothestory.blcklst.com/2014/09/classic-70s-movie-colossus-the-forbin-project.html
http://www.rollingstone.com/movies/news/rage-against-the-machine-a-brief-history-of-evil-movie-computers-20140417
http://www.scifimoviepage.com/colossus.html
Potential Remake:
http://www.tgdaily.com/games-and-entertainment-features/70226-sci-fi-classic-colossus-remake-to-star-will-smith
50 Best SF Films (#17):
http://www.rollingstone.com/movies/lists/50-best-sci-fi-movies-of-the-1970s-20150114/colossus-the-forbin-project-1970-20150113
John Landis on the movie:
https://www.youtube.com/watch?v=t46Kjy-IJpY