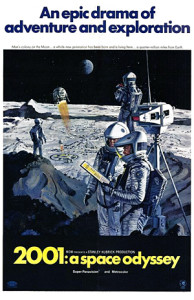 This time out, the Pavement Pounders are joined by Ben DeBono of The Sci-Fi Christian to discuss Stanley Kubrick's classic 2001: A Space Odyssey.
Colin and Seth both disliked the film on first viewing. Will things change after this viewing? What will James think about it the first time out?
The movie is (kind of) adapted from Arthur C. Clarke's short story "The Sentinel," and the novelization of 2001 was done in parallel with script development for the movie, so it's an interesting adaptational situation for us.
Huge thanks to Ben for joining us and providing some guidelines for enjoying the film! Make sure to follow the links below to more SFC content.
Hosted by Seth Heasley, James Ralston, and Colin Kuskie.
Pounder Rankings!:
Ben:
Colin:
James:
Movie/Story

Novel (Vote does not count! You didn't read it!)
Seth:
Notes:
The Sci-Fi Christian:
http://thescifichristian.com
2001/Kubrick-focused SFC links:
http://thescifichristian.com/2015/09/episode-396-who-killed-stanley-kubrick/
http://thescifichristian.com/2013/05/2001-a-space-odyssey-live-blog/
The Amazingly Accurate Futurism of 2001:
http://www.wired.com/2015/08/amazingly-accurate-futurism-2001-space-odyssey/
The Space Odyssey Explained:
http://www.kubrick2001.com/
One-Point Perspective:
http://filmmakermagazine.com/85083-the-one-point-perspective-in-stanley-kubricks-work/#.Vwb10Xp9Wa4
"Daisy Bell" sung by a computer:
http://www.historyofinformation.com/expanded.php?id=4445