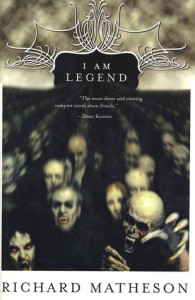 For Halloween 2016, the Pavement Pounders discuss Richard Matheson's 1954 novel I Am Legend and the three major films adapted from it: 1964's The Last Man on Earth, 1971's The Omega Man, and the 2007 film I Am Legend.
Slow, zombie-like vampires! Pale vampire Sith Lord beaniks! CGI uncanny valley superhuman darkseekers! And an Asylum film? What? (not really)
Big thanks to Adam Underwood for suggesting the topic and for being patient with us taking more than a year to get to it!
Pounder Rankings!
Colin:
Novel
The Last Man on Earth/I Am Legend
Empty slot
Empty slot
The Omega man
James:
Novel
I Am Legend
The Omega man
The Last Man on Earth
Seth:
Novel
I Am Legend
The Omega man
The Last Man on Earth
Notes:
The Last Man on Earth full movie:
https://www.youtube.com/watch?v=ZuPgXDWMB-Q
15 things about Last Man on Earth:
http://www.spookyisles.com/2015/06/15-things-you-didnt-know-about-the-last-man-on-earth-1964/
Review of all three films:
http://www.starburstmagazine.com/component/content/article/3-future-imperfect/988-qcome-out-nevilleq-i-am-legend
Comparison of all three films:
http://www.moviesmackdown.com/2007/12/legend-omega-lastman.html
About the I Am Legend alternate cut:
http://www.firstshowing.net/2008/must-watch-i-am-legends-original-ending-this-is-amazing/
SciFi Onscreen "Original vs. Remakes: I Am Legend"
http://www.scifionscreen.com/?p=452