This time out, the Pavement Pounders discuss their very first Stephen King, going with Firestarter, the 1980 novel and its 1984 theatrical adaptation.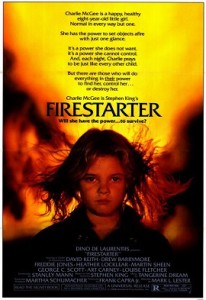 Alas, no exploding chickens in the movie. But lots of feathered hair, teke-ing really hard, and good old Hollywood whitewashing! Hooray!
Rankings!:
Colin/James/Seth:
Notes:
Seth was lazy this time and came up with precisely nothing. Not to worry, though, because Dune is up next and that should produce plenty. Besides, after the Show Notes explosion from Real Steel, Seth's been pretty tipped over.