Episode #16 is here and brings with it visions of the future.  This time, the Pounders discuss "The Minority Report," by Philip K. Dick, and the 2002 Tom Cruise film Minority Report adapted from it.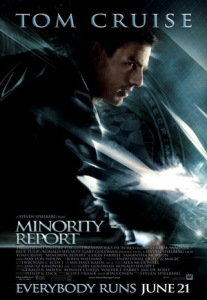 "In gloomy half-darkness, the three idiots sat babbling." – Philip K. Dick, "The Minority Report"
Was there ever a more apt description of this particular podcast?  Will we all agree on which was the better presentation of this material?  Or will there be…a Minority Report?
Pounder Rankings!:
Colin:
James:
Seth:
Notes:
Be sure to tune in to The Sci-Fi Movie Podcast in early February, as Seth will be guesting on the show to discuss Rise of the Planet of the Apes.