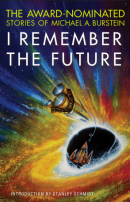 No clever title this time, because we were fortunate enough to have a chance to sit down (virtually) with Michael A. Burstein and discuss his short story "I Remember the Future" and its recent short film adaptation. It's not quite our usual format, as for the most part we took a back seat to Michael, allowing him to steer the conversation wherever he wanted.  And that's a very good thing.
Topics discussed:
Michael's history as a writer and a science fiction fan
The history of the I Remember the Future collection of Michael's award-nominated fiction (featuring, naturally "I Remember the Future")
How to best preserve the legacy of the Big Three (Asimov, Clarke, Heinlein)
High Energy Physics! (yes, we're nerds)
The vagaries of forgetting one's had a story optioned for a film.
We cannot adequately express to Michael how cool it was to chat with him. Huge thanks to him and to his family for letting us distract him awhile!
In terms of homework for this podcast, you'll definitely want to have read "I Remember the Future" and perhaps "Broken Symmetry" and "Cosmic Corkscrew." (See the link below to get a copy of the collection containing all of these and more.)
Notes:
Michael's article "Asimov and Me":
http://www.mabfan.com/asimovandme.shtml
Apex Book Company:
http://www.apexbookcompany.com/
Read "I Remember the Future" on the Apex site: http://www.apexbookcompany.com/blogs/frontpage/15359497-free-fiction-i-remember-the-future-by-michael-a-burstein
Interview with director of the movie:
http://file770.com/?p=16563
Homepage for the movie, with cast, backstories and awards:
http://www.irtf.kascreations.com.au
Direct link to the movie:
https://vimeo.com/ondemand/irtf
Michael's Award-Nominated Fiction:
http://www.apexbookcompany.com/collections/all-books/products/i-remember-the-future-the-award-nominated-stories-of-michael-a-burstein
Einstein's Bridge, by John Cramer
http://www.amazon.com/Einsteins-Bridge-John-Cramer/dp/0380788314
Michael's story "Lifeblood":
http://www.johnjosephadams.com/by-blood-we-live/free-fiction/lifeblood-by-michael-a-burstein/
Michael's latest project Pangaea:
http://www.crazy8press.com/books/pangaea/
Michael's contact info:
http://facebook.com/mabfan
http://twitter.com/mabfan
http://mabfan.livejournal.com
http://bursteinbooks.com