For a brief Episode #31, the Pavement Pounders discuss Brad Bird's The Iron Giant, which recently had a Fathom Event re-release. Also under discussion is the book the film is based on, variously titled as The Iron Man and The Iron Giant.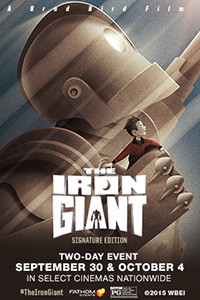 Thanks to Roger from The Geek Likes for suggesting the title.
Also, be sure to check out our new friends Margo and Margo on Book Versus Movie.
Pounder Rankings!:
Colin/James/Seth:
Note that our Frankenstein episode will post in December due to Victor Frankenstein premiering over Thanksgiving (Franksgiving) weekend.
Notes:
Book Versus Movie:
http://www.bookversusmovie.com/
Brad Bird on the demise of hand-drawn animation:
http://www.blastr.com/2015-9-17/iron-giants-brad-bird-lost-art-hand-drawn-animation
The Incomparable #205: Love Machine:
https://www.theincomparable.com/theincomparable/205/