In Episode #25, the Pavement Pounders discuss the much-maligned 2004 film I, Robot, based (or is it?) on Isaac Asimov's classic novel/anthology of the same name.  This completes our Robot obligations after previously covering Eando Binder's short story "I, Robot."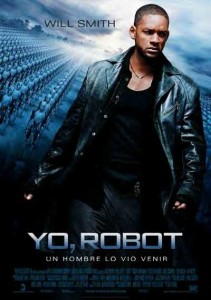 Also under consideration is the alternate universe version of the movie that we unfortunately never got.  Lousy Many Worlds Hypothesis, keeping us from having nice things!
Also, we've hit the quarter mark!  Woo!  Stick with us for another eight years or so and we'll make 100 episodes!  Also to be celebrated is that James has taken one more step toward geekdom since he hadn't previously read I, Robot.  Cash, checks, and baked goods are acceptable gifts for this kind of occasion.
Or just leave us an iTunes review, as TKCPodcast and SciFiOnScreen did (links to their shows below)!: http://itunes.apple.com/us/podcast/take-me-to-your-reader/id845657082
Pounder Rankings!:
James:
Colin:
Seth:
Notes: