In Episode #26, the Pavement Pounders were delighted to be joined by Nicholas Jensen to talk about Starship Troopers, the Robert Heinlein novel and the Paul Verhoeven film of the same name (if not the same content).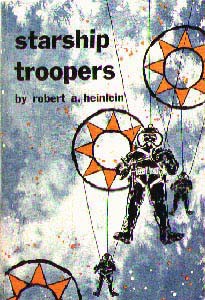 This podcast also features a brief segment from a longer discussion with Keith Kato of The Heinlein Society.  The full interview, minus the Starship Troopers part, will be released as Episode #27 in the coming weeks.
Pounder (and Guest) Rankings!:
Nick:
James:
Colin:
Seth:
Notes:
Nick's Brother's page:
http://www.bjsmoviereview.blogspot.com
Now Playing/Books and Nachos:
http://www.booksandnachos.com/
http://www.nowplayingpodcast.com/
The film and book contrasted:
http://web.archive.org/web/20010308205555/http://www.space.com/sciencefiction/movies/troopers_contrast_000610.html
io9 article on the book:
http://io9.com/5439145/starship-troopers-is-perfect–and-therein-lies-the-problem
Cracked article on the book:
http://www.cracked.com/article_19259_6-mind-blowing-ways-starship-troopers-predicted-future.html
The movie was brilliant?
https://www.reddit.com/r/TrueFilm/comments/2ab31t/starship_troopers_1997_paul_verhoeven_was/
Fan theory about the Bugs destroying Buenos Aires:
https://www.reddit.com/r/FanTheories/comments/1moua0/starship_troopers_buenos_aires_was_a_falseflag/
And yet another article defending the movie:
http://amazingstoriesmag.com/2013/11/defense-starship-troopers-novel-film-misunderstood/
Boeing Videos about SLS:
https://www.youtube.com/watch?v=vx1KTmdNW9I
https://www.youtube.com/watch?v=vdqhGhfX62Y