(Ironic Title Translation: Don't Change Anything.  You'll get it once you've read the story.)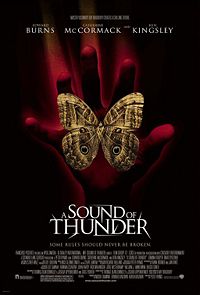 In honor of what would have been Ray Bradbury's 95th birthday, the Pavement Pounders discuss his well-known short story A Sound of Thunder with Phil Nichols, Senior Advisor to the Center for Ray Bradbury Studies at Indiana University.  Also under consideration is the episode of Ray Bradbury Theater adapted from the story, and the troubled 2005 feature film adaptation.
Huge thanks to Phil for joining us from the U.K. and bringing something that's normally sorely missing from our discussions: actual knowledge! 
Rankings!:
Phil:
Story

Ray Bradbury Theater

episode

Don't watch the movie, watch

Jurassic Park!!!
James:
Story

RBBT

Not dignifying the movie with a comment
Colin:
Seth:
Story

RBBT

Movie (watch it to laugh at it)
Notes:
The Center for Ray Bradbury Studies:
https://www.iupui.edu/~bradbury/bradbury/
https://www.facebook.com/pages/Center-for-Ray-Bradbury-Studies/766546360037269?fref=ts
Phil's Bradbury Media site:
http://bradburymedia.co.uk/
Follow Phil on Twitter!:
https://twitter.com/bradburymedia
Links to Bradbury Stories and The Stories of Ray Bradbury (Amazon Affiliate links for Bradbury Media):
http://tinyurl.com/ocelntm
http://tinyurl.com/p3q9y6b
Hilarious, detailed takedown of all the movie's faults:
http://www.agonybooth.com/recaps/A_Sound_of_Thunder_2005.aspx
Another negative review:
http://www.timetravelreviews.com/movies/sound_of_thunder.html
More piling on:
http://www.joblo.com/movie-news/awfully-good-a-sound-of-thunder-big-top-pee-wee-video-154
Somebody liked the movie!:
http://horrornews.net/54472/film-review-a-sound-of-thunder-2005/